Why Choose Epoxy Flake Garage Floors in New Jersey?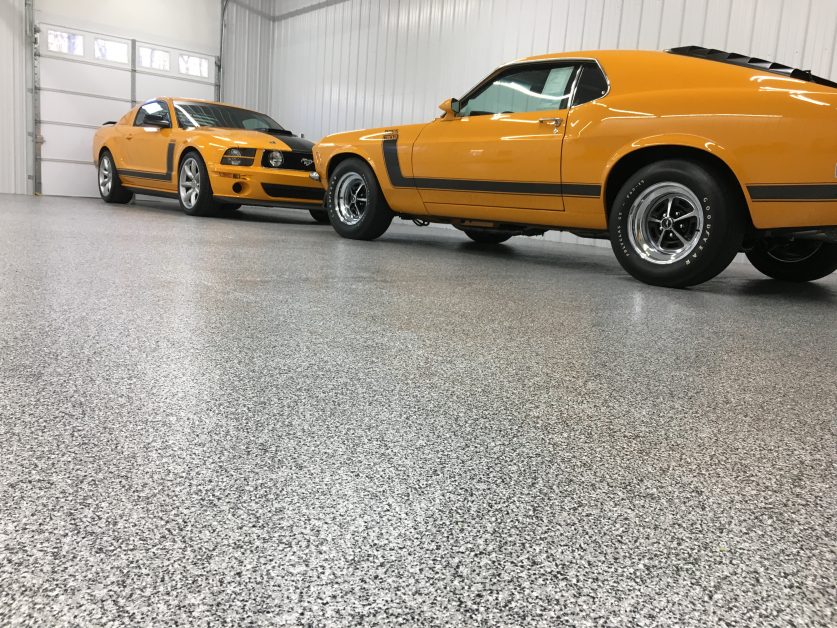 What is so Great about "Flake Floors"
Hi
In the last few years, the popularity of "Epoxy Flake Floors" have grown tremendously in NJ and South Jersey Areas. People refer to these floors as Chip floors, Epoxy Chip floors, Flake floors or even Fleck floors.  Whatever you call them, the growth is undeniable. These floors are easy to clean and require no waxing.  They are being installed in garages and shops like crazy and have been used all over NJ in commercial settings. They have also been used in schools, lunch rooms, restrooms, veterinary clinics, industrial hallways, nursing homes, balconies and much more. The draw of these garage flake floors is partially due the beauty. In my opinion, it has more to do with the extreme durability of them. A well installed standard epoxy chip or flake floor is very durable. They have a strong base coat of industrial epoxy with a 100% broadcast of flakes and a good top coat of clear urethane or polyaspartic. The layer of flake is very useful in a garage setting. When tools or parts drop they have some cushion and will be less likely to chip the base coat. This protection provided by standard flake floors gets a huge boost when the base coat is our Floor Skins Elasti-deck system.
Nothing Compares to the Floor Skinz Elasti-Deck Base Coat
The Floor Skinz Elasti-Deck base coat is far superior to standard epoxy. It penetrates deeper into the concrete and remains flexible. This means it not only has the chips and clear poly-aspartic protecting against chipping, but it has a deep penetration making it unlikely to ever release from hydrostatic pressure. In South Jersey, we have a very flat landscape making the water table rather shallow and hydro static pressure likely.    
Whether you are doing garage floor or your work shop floor there is no better choice for a durable concrete coating than Floor Skinz Elasti-Deck Flake floor system